Delilah Hair Studio in Brunswick East is now offering the hair treatment that you've all been waiting for! BLONDPRO as a standalone application.
BLONDPRO is similar to Olaplex and has three distinct steps:
BLONDPRO 'A' is applied directly to your hair and is crucial in preventing breakages in the disulphide bond between the Keratin proteins of your hair.
BLONDPRO 'B' is applied during the rinsing phase of your colour, working to reform and mend broken disulphide bonds.
BLONDPRO 'C' is for use at home. Use once a week for maximum effect, and your hair will be looking healthy, strong, and more fabulous than ever.
But, with the standalone treatment, we simply apply BLONDPRO to your hair and almost immediately it starts to work its magic. It multiplies disulphide bonds, maintains the strength of your hair and ignites the process of re-bonding the hair shaft – all of which are common problems associated with hair that is coloured regularly.
In fact, BLONDPRO leaves your hair seven times structurally stronger than it was before treatment.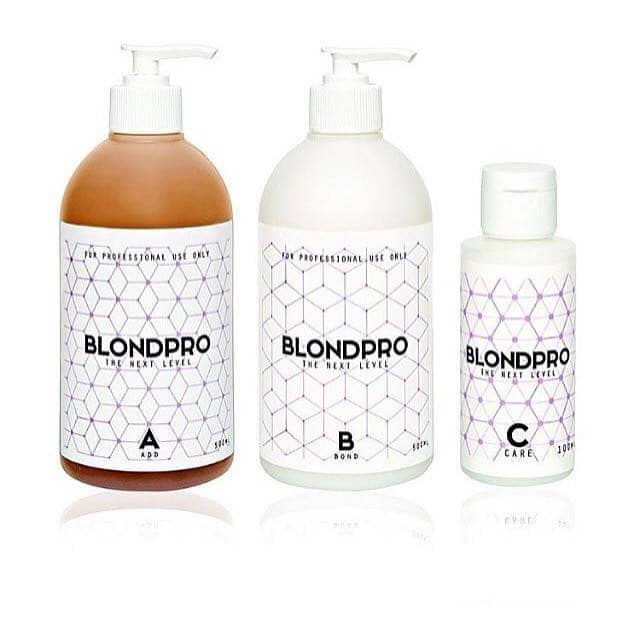 How is It Used?
BLONDPRO is a distinct part of the normal colouring process. BLONDPRO optimises the colouring process by strengthening hair and locking in colour for longer. You'll be able to go blonder and stay blonde for longer with a BLONDPRO hair colouring treatment.
It can be used for other colours to make hair less porous, lock in colour and restore those all important disulphide bonds.
Does It Work With All Hair Types?
Yes, BLONDPRO is perfect for all types of hair. BLONDPRO can be used as a stand-alone treatment for chemically or environmentally damaged hair. It can also be used with balayage, ombre and highlighted hair.
It is especially useful for blonds and chemically processed hair as well as hair that have been damaged by excessive heat treatments. Its ability to eliminate breakages really makes a difference to these hair types.
At Delilah Hair Studio we love what we've seen from BLONDPRO. It makes colouring hair a health as well as an aesthetic treatment and any time we get to transform the look as well as the health of our customer's hair is an exciting time.
How Does BLONDPRO Work?
The keratin proteins in our hair are linked and strengthened by two sulphurs, which become the disulphide bond. The linking of these two proteins creates the shape and determines the strength of hair.
Repeated exposure to chemicals, during colouring and other treatments, weakens this bond and eventually the bond breaks meaning the keratin proteins are no longer linked and the hair is damaged.
When BLONDPRO is applied to the hair the disulphide bonds are re-formed, multiplied and strengthened so that the keratin proteins can link up again and create beautiful, strong hair.
The best part is the whole process only takes one hour, including the blow dry.
If you frequently colour your hair and feel as though your hair needs a little help to cope with the process speak to Delilah Hair Studio about a BLONDPRO treatment today. We love what we've been able to do with our customer's hair and we look forward to providing you with the ultimate in colouring and hair health.
Contact Delilah
We'd love to hear from you! If you're after a consultation with one of our stylists, or simply want to get some more information, you can give us a buzz at (03) 9387 6744 or even Book Your Appointment online.