Short curly hairstyles your jam?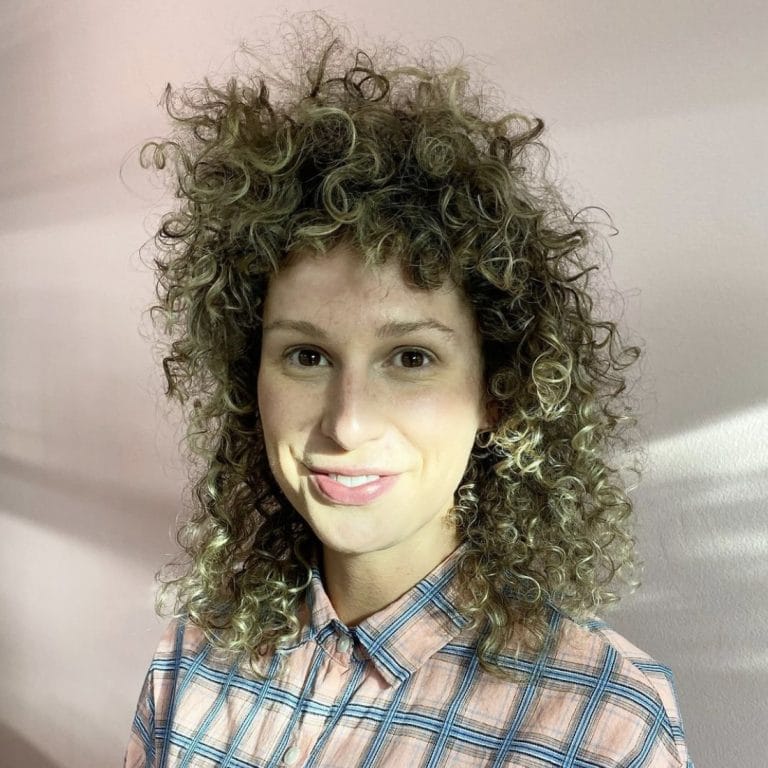 A big bouncy bangin' bunch o' curl just what the doctor ordered?
What exactly are you waiting for then? Come in and see the curl queens at Delilah. Whether you're after a short, sharp bob, the shaggiest of mullets, or a mullet shag, you'll leave with the most luscious of locks you ever did see.
Cutting a circular shape—or any shape for that matter—in short curly hairstyles and Afro hair is not just a skill, it's an absolute art form. And, we've mastered it, if we do say so ourselves.
Dry Cutting
All the Delilah-ettes use the dry cutting technique to create killer curls. Dry cutting is essential when it comes to finessing short curls. This is because dry cutting enables us to work with the natural form, texture, rise and fall of your hair. It reveals your curl pattern, and illuminates how your waves and kinks work. It helps us decide where and how to remove bulk, or add texture and movement.
Our dry cuts are the secret to serving up a short curly hairstyle that you can style with ease from home. You know the one—it takes minutes to finesse. A smidgen of product on your hand, tousle and out the door you go. That dreaded 'day after the hairdresser' remorse is a thing of the past with Delilah in our contact list. Our team of curl masters will leave you looking fab for weeks – not just during a sleek 'after' photo for Insta.
Short Curly Hairstyle Enhancing Creams
And, just for a little added sprinkle of fairy dust, we even handmake our very own curly hair enhancing creams. Salon owner, MR.D. makes every single jar right here in Footscray, Melbourne. They're the perfect additional any ethical shoppers basket. The packaging is all completely recyclable. The ingredients are all high quality and locally sourced. And, what we're most proud of, is that $1 from every sale goes directly to stopping violence against women. That's right—$1 from every product we sell is donated to Hair3Rs, a program by FVREE to help hair and beauty professionals recognize, respond and refer to the signs of family violence in our clients.
Wondering what's in the range? Let me be the first to explain…
Peppermint Cream
For effortless curls, with oodles of movement, our hydrating Peppermint Cream minimizes frizz without sacrificing on volume. It can even help with pesky scalp problems like itchiness and dryness.
Sea Salt Cream
Want to look like you're fresh from the water's edge? Just stepped off your super yacht to shake up a mid-afternoon cosmo? Our Sea Salt Cream creates beachy, soft, casual curls without weighing down your hair or making it greasy.
Clay
Want volume and texture that lasts all night loooooonnnng? Our gorgeously rich and oh-so spicy Clay is what you need. With our delicious blend of Beeswax and Bentonite Clay, this product is packed with the perfect texturising ingredients to add personality to your short curly hairstyles.
Examples of Our Short Curly Hairstyles