At Delilah Hair Studio, we proudly produce our own unique range of hair styling products. Handmade with love by salon owner, Adrian, all our products complement our dry-cutting technique and curly hair doo's and have proved extremely popular since their launch in 2018.
Chock-full of gorgeous ingredients like essential oils, beeswax and clove, Delilah's products suit all types of hair, from the silkiest straight hair right through to buoyant, curly locks. And, best of all, $1 from every product we sell is donated to EDVOS to help end family violence.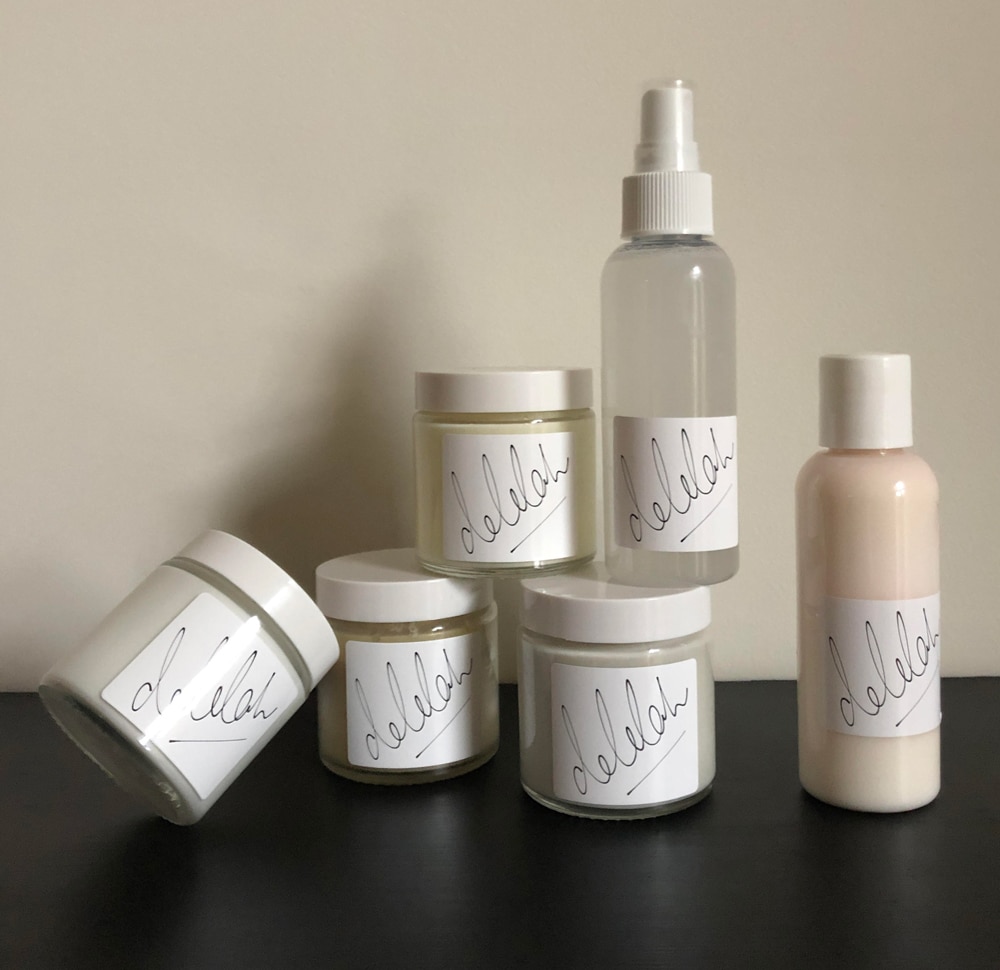 Beeswax Balm
Beeswax is an incredible ingredient that we use in a lot of our products—it moisturises and smoothes hair like you just wouldn't believe. Our beautiful beeswax balm offers a mixture of beeswax, jojoba, olive oil and clove that allows for emphasised texture and moisture in your hair. This balm is super firm, so it's best on short hair.
Cream Six
With a sorbolene base and notes of cinnamon, cypress and pepper, cream six offers strong anti-frizz properties and great hold. This cream is an incredible option for those looking to add texture to their hair or enhance natural curls. Plus, sorbolene naturally calms any static, fly-away hair, as well as unruly ends without leaving your hair feeling (or even worse, looking) greasy. It seals the moisture inside your hair, keeping it totally luscious—who doesn't love that idea?!
Sea Salt Cream
Handmade with Celtic Sea Salt and Shea Butter, our versatile Grapefruit Salt Cream is an amazing product for all hair types. It is super moisturising and helps make your hair feel deliciously soft. For straight hair, add this cream while blow-drying for added moisture and texture. Or, use it to scrunch up your curly hair for some added volume. Great for a beachy curl!
Peppermint Cream
Injected with refreshing peppermint essential oils, this beautiful peppermint cream offers lightweight moisture that works on a range of different hairstyles. If you're after a soft short hair style, curl hydration or silky, moveable matte hair, then this product is amazing. Peppermint also packs a powerful punch when it comes to benefits for your hair and scalp—it can help with itching, dryness and other scalp problems.
Salt Spray
Our beautiful lavender sea salt spray is made from organic sea salt, lavender oil and a mixture of sensuous moisturisers. If you're looking to add some texture and volume to your hair, then this is the perfect spray for you. If you struggle with fine hair, this spray is the one for you. It boosts volume, and helps your hair look fuller and thicker.
Clay
This gorgeous clay is made from bees wax and bentonite clay, offering the perfect texturising ingredients to add some personality to your short or curly hair. Plus, bentonite clay is a perfectly natural way to revive less-than-healthy (read: bleached, over heat-treated or otherwise damaged hair). It actually works like a detoxifiser for your hair, helping to remove any build-up of toxins and chemicals. You can pick this one up today from our Brunswick East salon.
Delilah's gorgeous range of products ate only available to purchase in-salon. So, be sure to pop into our Brunswick East salon today to discover our wonderful range of locally made products.