Welcome to Delilah Hair Studio – Your Oasis in Brunswick East
Step into Delilah Hair Studio and be swept away into a world of unparalleled hairdressing expertise and a truly unique salon experience. Nestled in the heart of Brunswick East, our modern hair studio has become a haven for those seeking not only impeccable hair services but also a refreshing and inviting atmosphere.
A Sanctuary of Style and Comfort
Upon entering our hair salon, you'll be greeted by the light, bright, and airy ambiance that sets Delilah Hair Studio apart. Our floor-to-ceiling glass windows allow for an abundance of natural light to pour into the space, illuminating our polished concrete floors and vibrant, green plants. Our collection of lush greenery brings an element of the outdoors in, creating a serene, nature-inspired setting that perfectly complements our contemporary design.
At Delilah Hair Studio, comfort is paramount. Our high-end fixtures and fittings, like our sumptuously comfortable leather armchairs at the hair washing basins, ensure you relax and unwind during your visit. We know that the small details can make all the difference—that's why we've curated a space that reflects our commitment to providing our clients with the ultimate hair salon experience.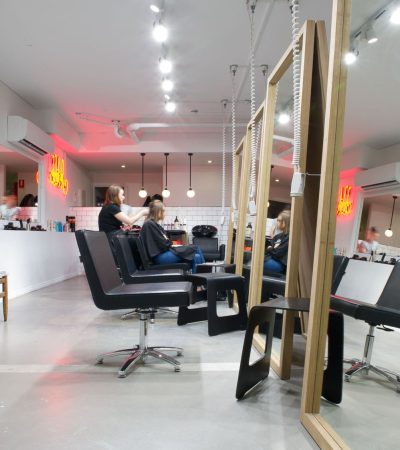 A Unique Touch of Creativity
What sets Delilah Hair Studio apart is the unique and ever-evolving decor, personally curated by our talented owner, MR. D. His flair for design is evident in the eclectic touches that adorn the space, from the shimmering disco ball to the eye-catching artwork on our walls.
We pride ourselves on maintaining a fresh and vibrant atmosphere, with regular updates to our decor that keep our salon feeling new and exciting. As we believe that beauty is in the details, we have crafted a studio that is not only modern and stylish but also a reflection of our creative and artistic spirit.
A Warm and Welcoming Oasis
Despite our modern aesthetic, Delilah Hair Studio is a place where warmth and cosiness prevail. Our friendly and dedicated team of hairdressers are here to make you feel at home, offering personalised services and expert advice tailored to your unique needs and preferences. Whether you're here for a routine cut or a complete hair transformation, we are committed to ensuring that you leave our salon feeling pampered, refreshed, and confident.
As the leading curly hair salon in Brunswick East, Delilah Hair Studio is proud to offer specialized services and education for curly-haired clients, embracing the beauty and diversity of all hair types.
Experience Delilah Hair Studio
Discover the Delilah Hair Studio difference and be a part of our vibrant and welcoming community. Conveniently located on Lygon Street in Brunswick East, our hair studio is your go-to destination for exceptional hairdressing services and a unique salon experience.
For a hair salon that offers not only expert hairdressing but also a relaxing and inviting atmosphere, look no further than Delilah Hair Studio in Brunswick East.
Book an appointment or learn more about our services, call us today on (03) 9387 6744. Experience the best of modern hairdressing and artistic design, all under one roof at Delilah Hair Studio.