Delilah Hair Studio in Brunswick East is all about pushing the envelope and creating looks for our clients that help them stand out from the crowd. The products we choose to work with are incredibly important to our image and we simply refuse to work with anything that we don't believe in. That's why we are excited to announce that we will be introducing Muk hair products and Muk hair colour into our salon.
About Muk Hair Care
Started as a truly underground brand that has become iconic, based on its quality and vision alone.
Muk was born in Melbourne 10 years ago and since then it has taken the Australian hair styling industry by storm. Muk was tired of all of the scientific terminology and outlandish claims that were plaguing the hair styling industry, so they decided to make something that was purer and more natural. The name says it all!
We love how courageous Muk is, how determined they are to break the shackles and do exactly what they want to do. Not only did their original products, 'Hard Muk' become a top selling product overnight it also became a finalist in the Australian Hair Fashion Awards. Their 'Deep Muk Leave-in Conditioner' was also a finalist in the 2009 AHFA Best New Product.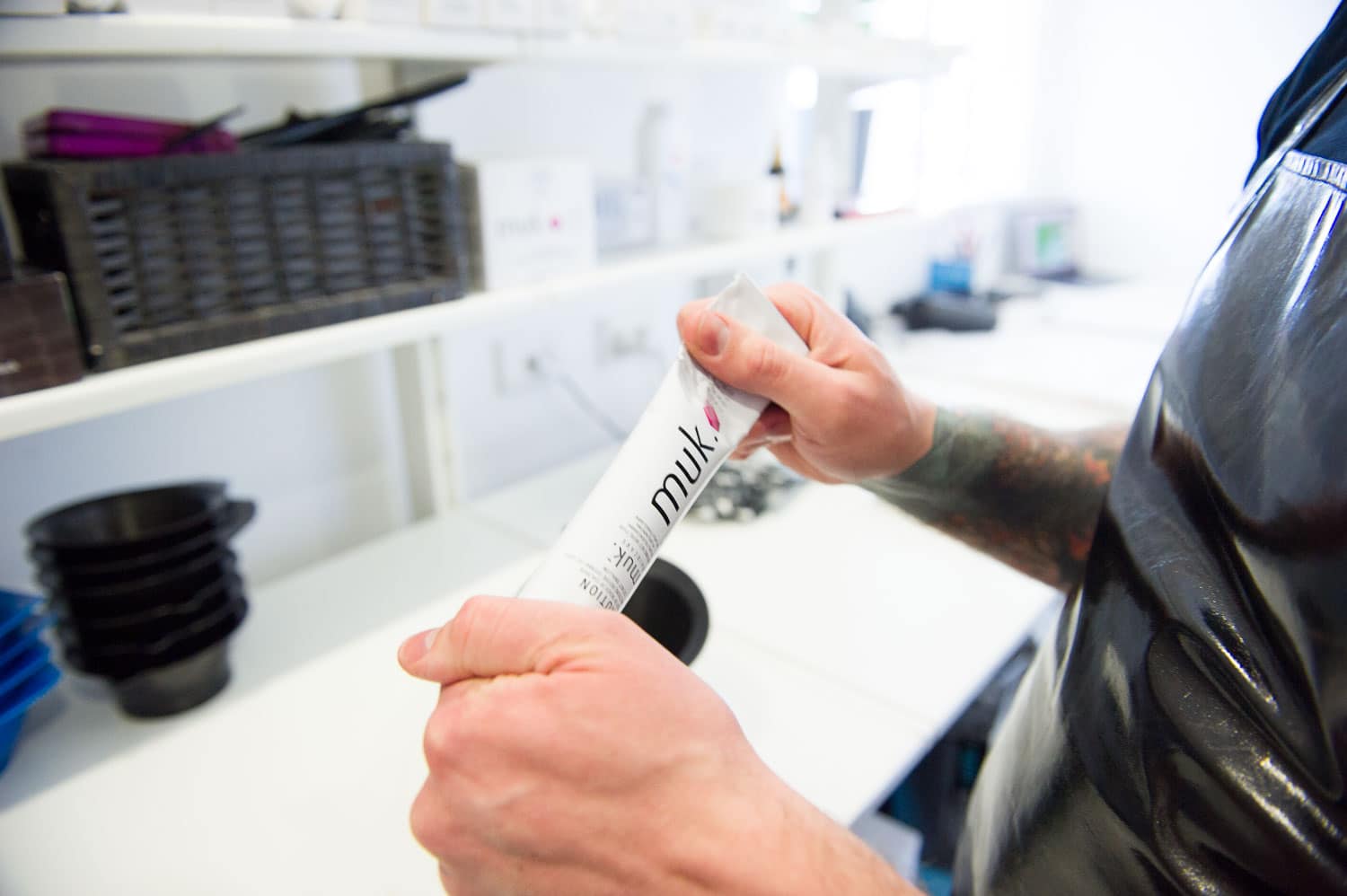 Vegan-Friendly, Cruelty-Free, Cutting Edge Hair Care
Not only is Muk the most subversive and energetic brand out there it also operates with a conscience.
Muk Hair Care Products
All of Muk's products are vegan and cruelty free and every product has the PETA stamp of approval. That means that you can make a difference to the world and have great looking hair. Instead of relying on animal products Muk has instead focused on finding and using cutting edge ingredients to create the high quality products that they have become famous for.
Muk Hair Colour
Muk hair colour has also received the PETA stamp of approval for being completely vegan and cruelty free. Their colour range has been developed over a 5-year period. No short cuts have been taken in ensuring that the Muk hair colour range is representative of some of the most amazing technology available in hair colouring.
The hard work has certainly paid off. The range is incredibly fade resistant and shines in a way that no hair colouring can. It is low in allergens, ammonia and is PPD free making it far healthier for your hair. In fact, Muk hair colour leaves your hair in better condition than it was before the colouring. The range has been specifically designed for the Australian climate and was developed in Italy to take advantage of the Italian hair colouring expertise.
The Muk colour range is a game changer in the industry. At Delilah we truly believe that Muk is the best there is in hair colouring. We were absolutely blown away by the results and we know you will be too.
With all the problems facing our environment its important we all try and make a difference wherever we can. In our beautiful Brunswick neighbourhood we're surrounded by people who are committed to making a difference and you can join the fight too by embracing the Muk movement.
Other brands use chemicals, animal products and take part in cruel animal testing that causes unimaginable harm around the world. When there is a range out there that refuses to take part in these horrible practices, and also happens to be of the highest quality, it really is an easy choice to go with muk.
You'll love what it does to your hair, the packaging looks incredible, the brand is effortlessly cool and you can help to support an Australian product that is committed to making a difference and refuses to stay between the lines.
We really feel that Muk is the perfect fit for our salon and it's going to allow us to provide out clients with an even better hair styling experience whilst also allowing us to fulfil our obligations to making a difference in the world.