Time and time again, people decide not to opt for hair smoothing treatments because they think that, while they might make your hair look sleek and smooth, surely all those chemicals damage your hair.
A keratin smoothing treatment is your chemical-free answer. A keratin hair treatment does what it is supposed to: it de-frizzes your hair, makes it more manageable and keeps it looking sleek and luscious. But, best of all, its unique properties mean that it is also a wonderfully healthy and restorative treatment for your hair.
Your hair is actually comprised of teeny tiny keratin protein molecules. These molecules are linked by various bonds. The procedures we put our hair through and the chemical treatments that we put in our hair break down these links over time. The breakdown of these links leaves hair weak, broken and frizzy.
Keratin smoothing treatments help the keratin proteins link back up, leaving you with sleeker, healthier hair.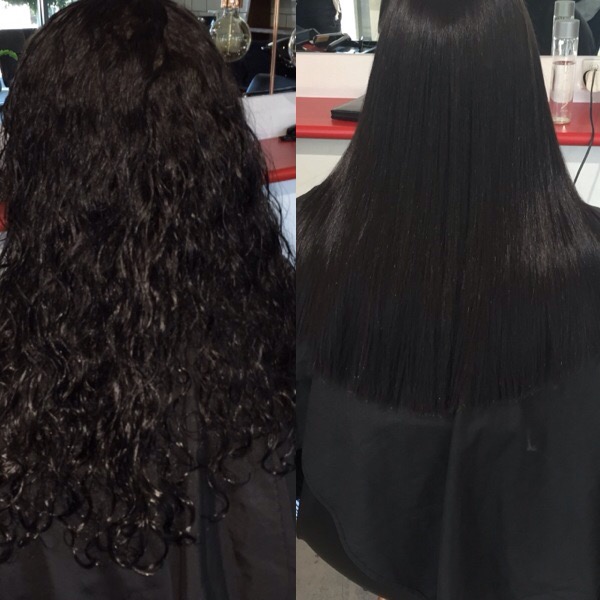 What Is the Treatment Made From?
At Delilah, we use Cezanne Keratin Smoothing because it's the best product out there. It is formaldehyde free and contains no harmful toxins. The geniuses at Cezanne have left the nasty chemicals out and replaced them with aloe vera, keratin, sericin and glycolic acid to give your hair the treatment it needs to restore bonds and health.
The difference between Cezanne and the rest of the products out there is that Cezanne uses sericin. This is a completely natural protein sourced from silk worms. Sericin works to lock in moisture and create the perfect environment for the bonding of the proteins.
Glycolic acid has been recognised as a valid anti-aging treatment and it is perfect for making your hair stronger and more manageable. It also works to protect hair against heat making it the perfect treatment for anyone leaving the cold winter behind for a mid-year summer escape.
Cezanne keratin smoothing also uses natural vitamins, such as B3, B5, B6, E and C as well as extracts from sugar cane, apple, lemon and green tea to enrich your hair and give it the nourishment it craves.
How Does the Treatment Work?
The process only takes about 1.5 to 2 hours and because there is no smoke or vapour involved you don't need to wear a mask. The results are instantaneous and as soon as you've left the salon you'll be able to curl your bouncy, voluminous yet sleek, straight and smooth hair or twist and turn it into any style you like.
What Hair Types Do Keratin Treatments Work For?
A Cezanne keratin smooth treatment at Delilah works for all types of hair. Even better, you can keep coming back for treatments and the results will improve every time due to the accumulative effect of the treatment.
Cezanne Express Keratin Smoothing
So, by now you should be completely blown away by the powers of a keratin smoothing treatment. But, what if you don't have the time or the budget for the treatment? Well, we've called them geniuses before, but the team at Cezanne have only solidified their genii status by creating with the Cezanne Express Keratin Smoothing treatment.
You get the same quality smoothing treatment, with all the health benefits for your hair except the treatment costs half as much and takes half the time to complete. You'll get the same end-result as the full treatment, the only difference is it lasts half as long.
The express treatment uses the same formula, meaning you don't have to worry about putting your hair through the ordeal of being doused with formaldehyde and other nasty and toxic chemicals.
A Cezanne treatment will revitalise your hair. A combination of a Cezanne treatment and a BLONDPRO treatment will completely revolutionise your hair. You know those bonds we were talking about, the bonds that link up the keratin proteins in your hair, well, those bonds are called disulphide bonds. BLONPRO actually multiplies those bonds to flick the hair strengthening process into overdrive.
If you combine the powers of Cezanne and BLONPRO you'll multiply the strength-giving bonds of your hair before locking in all that strength with a Cezanne treatment. That means you'll leave the salon with sleek, smooth hair that is free of flyaways. You'll open up your styling range and every time you look in the mirror you'll wonder why it took so long for you to discover the miraculous treatment.
If you're looking to take your hair to the next level, you're tired of spending more time trying to tame your hair than actually enjoying it or you just want to get more out of your salon experience you need to enquire about this package.
Keratin Treatment Aftercare
You'll be pleased to know that one of the key benefits of a keratin smoothing is that you'll cut your hair-do maintenance in half. Firstly, you won't have to spend hours singeing your hair into straightness and secondly, you'll cut your blow-drying time by as much as 60%.
The most important aspect of aftercare is listening to your stylist and making sure you only use the products recommended by them. You need to use the sulphate free shampoo and conditioner recommended or you risk undoing all the good work of the treatment.
The current state of your hair doesn't matter. Everyone needs a keratin smoothing treatment in their life. The way we look affects the way we feel about ourselves. If you look your best you'll be your best and you'll attack each day with the confidence you need to take the world by storm.
Sound too good to be true? Well, rest assured, it's not! Book your appointment today to discover the benefits of keratin smoothing.