Looking for a keratin treatment near me? If you're looking for a way to add shine and sleekness to your hair, a keratin hair treatment could be the perfect solution. This treatment achieves glossy and frizz-free locks which last for months by restoring the natural proteins of the hair follicle.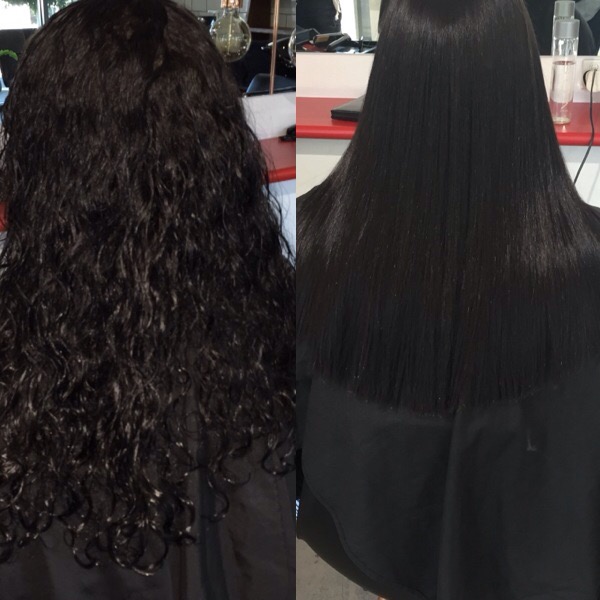 What is Keratin?
Keratin is the protein that makes up your hair, skin and nails. It's a strong type of protein that is also found elsewhere in the body, and it is less susceptible to tearing or scratching than other types of cells.
Keratin is considered the structural building block of the hair follicle. Increasing the amount of keratin in the hair results in stronger, healthier hair with greater thickness and shine.
How do Keratin Hair Treatments Work?
Keratin hair treatments seal the hair cuticle with a coating of protein that eliminates frizz and adds softness and shine. These treatments are designed to reverse the damage often done to hair through colouring, heat styling, exposure to sun and other factors. It restores the levels of keratin protein in the hair, smoothing the cuticle and increasing shine. Because keratin enhances the health of your hair, it can also decrease frizz and restore moisture.
Keratin treatments will also harness the power of other ingredients to achieve smooth and shiny hair. These work in tandem to repair the damage done to your hair and restore the natural levels of the keratin protein, while also minimising frizz and enhancing the straightness and sleekness of your hair.
What to Expect at a Keratin Hair Appointment
Keratin treatments are applied in salon and can only be done by hair professionals. Your stylist will begin by washing and blow drying your hair to remove any dirt, excess product and other impurities. Then, the keratin treatment is applied to the hair section by section with a fine-tooth comb. At Delilah, we use only Cezanne keratin treatment. Your stylist will leave the solution to coat your hair for at least twenty minutes to ensure it has fully absorbed into the hair follicle. Following this, your hair will be blow dried again.
A heat treatment is required to lock in the keratin. If you are hoping to achieve a straight look, your hair may be straightened to seal in the solution. Overall, the process usually takes about an hour.
How Long do Keratin Hair Treatments Last?
Keratin treatments will typically last between 3 to 5 months. After your treatment, you should avoid washing your hair for three days to allow the solution to completely set. There are ways to enhance the longevity of your keratin treatment by taking care of your hair post-treatment.
Wash your hair less often
Washing your hair can gradually remove the keratin treatment and dull the smoothing results. Use a dry shampoo between washes to avoid greasy looking hair and try to only wash your hair once a week for optimal results. When you do wash your hair, avoid very hot water, which can break down the cellular structure of the treatment. Use warm water to wet your hair and to rinse instead.
Use a silk pillowcase
We recommend silk pillowcases anyway – they are so lovely and soft on your gorgeous hair! But if you have received a keratin treatment, steer clear of cotton pillowcases which dry your hair out and can amplify frizz. Silk keeps the hair hydrated because it is less porous, and the smooth and silky texture will result in softer hair each morning.
Use sulphate-free keratin shampoo
Swapping to a sodium and sulphate-free shampoo will prolong the effects of your keratin treatment. Sodium can dissolve keratin, while the sulphates in some hair products can gradually strip the keratin and other beneficial oils out of your hair, diminishing the benefits of the treatment. There are plenty of specialised shampoos, conditioners, hair oils and more available, which are designed to prolong and enhance the effects of your keratin treatment.
Keratin treatments can be repeated two to three times a year.
Does Keratin Straighten Curly Hair?
If you have curly or unruly hair, you may be interested in a keratin treatment. Keratin treatments help to tame frizz and create smoother and more defined curls.
Keratin treatments do not permanently alter the texture of the hair, unlike some other hair treatments. Treatments involving keratin will eventually fade away through washing and daily life, so your natural hair texture will come through without needing to wait for your hair to grow out.
Additionally, a keratin treatment will not create that highly straightened look that can be achieved with chemical straightening.
If you're a curl queen looking to tame the frizz but keep your gorgeous bouncy locks, you can still benefit from a keratin treatment – chat to our stylists about how we can tailor a keratin smoothing treatment for you.