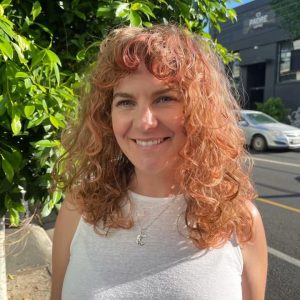 Thinking a messy curly hair style could be just what the doctor ordered?
If you've got curly hair and want to change up your look, consider a messy curly cut. You won't be disappointed with this style—it packs a punch but still shows off your gorgeous texture. A messy curly style is both fashionable and easy to maintain. Here at Delilah Hair Studio we love curls and will work with your natural curl pattern to find a messy cut that works best for you.
Benefits of Choosing a Messy Cut
Managing a full head of long curls can be tiring and opting for a messy cut will reduce the time needed to maintain your hair dramatically.
A messy curly style is an easy and fun way to add a little personality to your look. Currently have long luscious locks? Why not make a dramatic change and switch to a style with some wow factor.
There's no need to compromise with your curls – you'll still be able to show them off. If anything, a messy cut will bring all the attention to your hair's gorgeous texture.
Your stylist will leave you with an easy to style, no fuss look that's especially designed to match your features. You'll leave our salon with a unique look made just for you.
The Dry Cutting Technique
If you have curls you've probably heard of the dry cutting technique – and you probably know how important it is to find a stylist that's specialised in using it. At Delilah Hair Studio we always want the best for your curls, and when it comes to creating a messy curly look we make no exceptions.
A dry cut will ensure that the messy cut works for you and your natural texture without too much intervention or too many products. We'll be able to see how your hair sits and design a look around the organic flow and shape of your curls.
Delilah – Experts in Messy Curls for Curly Hair
If you have curly hair, you know how hard it can be to find a stylist you can trust with your curls. Here at Delilah you can rest assured that we have the experience and the skills to leave you overjoyed with your new look.
We work closely with our clients and do a thorough consultation before we even go near your hair. We want to know everything we can about your curls – what products do you usually use? How do you style it on a day to day basis? All this info will help us to create a messy curly style that's uniquely yours and suits your hair's needs the best.