A True Revolution in Haircare
K18 is a clinically proven formula that dramatically repairs hair at a molecular level from the inside out, reversing damage in four minutes. Yes—just four measly minutes!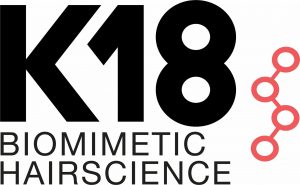 It leaves hair unimaginably soft, smooth, strong and deliciously bouncy.
We. Are. In. Love. Can you tell?!!
We are so excited to be working with this incredible new technology in hair repair. Other hair care products hide the damage done to hair with conditioning treatments, coating the hair in oils to create the appearance of shine and hydration, without any real results. Concealing hair damage only affects the outer layer of hair, leaving the broken bonds in the core of the hair untouched.
Healing Your Hair From the Inside Out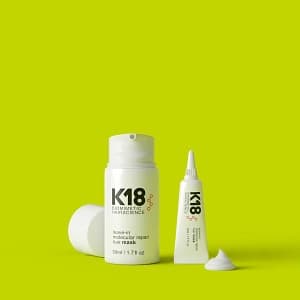 K18 takes a different approach, healing your hair from the inside out. It doesn't just provide the superficial look of healthy hair – it repairs from the core, restoring elasticity and reconnecting the broken keratin chains.
The healing work of K18 will not wash out or disappear after a few days. This molecular miracle repairs and restores strength, softness, smoothness and bounce, leaving your hair like new again.
Hair can be damaged through colour and styling, such as bleaching, chemical services, heat styling with a straightener or curler, and mechanical styling. With just one salon treatment, K18 can repair the damage done through these activities. After a single use of K18, hair is restored to 91 per cent of its original strength, and 94 per cent of its original elasticity.
We cannot wait to treat you to this radical new technology in haircare!
So How Does K18 Work?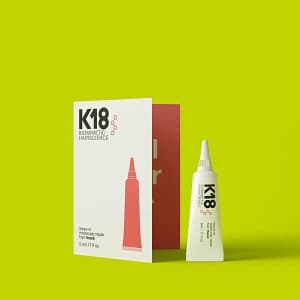 K18 uses biomimetic hair science to create their incredible treatments. After a decade of research and testing, the K18 Peptide was patented for exclusive use to K18, meaning this is the only product that covers the entire keratin proteome. The molecular technology carries amino acids into the cortex of the hair to reconnect keratin chains and reconfirm disulfide bonds.
Basically, it banishes your dry, brittle and damaged hair, and brings back that once-elusive youthful bounce and shine!
The two-step in-salon treatment includes:
A beautiful mist to prepare hair for professional and chemical services
A repairing hair mask to reverse the damage and prevent breakage
It takes just four minutes for K18 to work its magic, penetrating the hair's cortex for a real lasting repair. With added lightweight conditioning properties, your hair will be left feeling smooth, soft and oh so luxurious.
Vegan & Cruelty-Free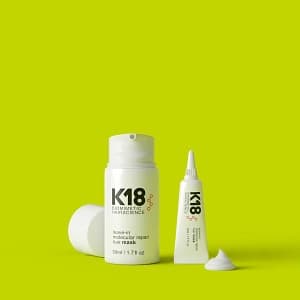 At Delilah, we're all about products that not only work amazingly well but are kind to our furry friends too. That's why we're thrilled that K18 is vegan and cruelty-free.
K18 is also free from all the nasties, with no silicones or sulphates
Plus, their products are made for all people, all hair types, and every generation.
Buy Your K18 Now
Can't wait to get your mitts on the wonder that is K18? We totally understand. That's why you can buy it via our online store now: