Colour is so important to a hair style. As hair styling professionals, the team at Delilah in Brunswick East has seen the amazing difference that the right hair colour can make. Unfortunately, we've also seen the disastrous effects of colours gone wrong—that's where colour correction comes in.
Whether your bleach has gone wrong, you've got unwanted tones in your colour (like too-rusty reds), or you've decided that your colour doesn't suit your skin tone, we can correct these mistakes. We can completely remove a colour, change a colour or remedy a colour mistake. In fact, colour correction is one of our specialities. Our expert stylists have over 30-years collective experience turning what was once a mistake, into an irresistible, head turning hair-do.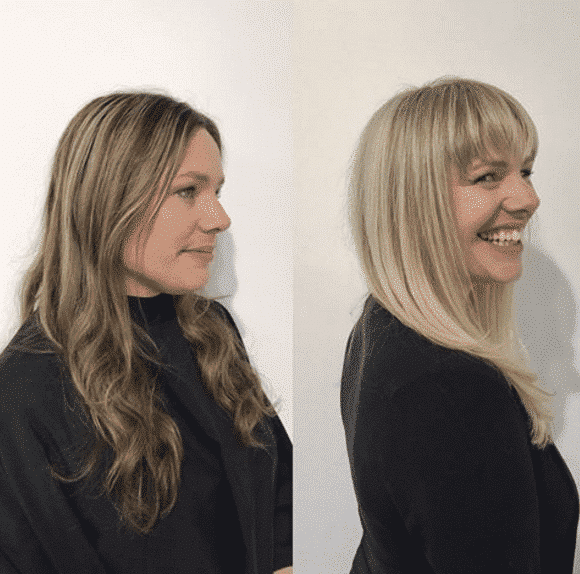 Our Colour Correction Service
Our colour correction service is centred on addressing the health of your hair, while also making necessary changes to colour. To improve the health of your hair during the process, we always use Blondpro. Blondpro stabilises the hair by multiplying the disulphide bonds that link the strength-creating keratin proteins in our hair. By adding this to our colour corrective service, not only do you get a colour correction service, you'll also leave the salon with healthier, stronger hair.
Part of our desire to put hair health first is in our commitment to only using MUK colour. We love this product. Restorative, gentle and reparative, MUK really is the best tool for the job, particularly as it is:
Low ammonia
80% naturally derived
Cruelty free
PPD free
Long lasting
Developed right here in Melbourne, and made in Italy
Our method for correcting colour may involve:
Using gentle MUK bleach to strip the hair of unwanted colour
The application of foils to create highlights
The application of a hair painting and Balayage to not only colour hair, but create structure, texture and shape in your hair
The days of having to have a solid colour after a colour correction or a complete colour change are well and truly over. The usual 'colour strip' or all over bleach, followed by saturating the hair with a single one-dimensional colour have been surpassed by balayage.
Not only that, balayage is also a great way of slowly changing your hair colour. It can be built up slowly over time, with the added benefit of allowing your hair to recover from chemical processing between visits. This leaves your hair in terrific condition as you go lighter or brighter in hair colour. Colour correction has changed so much over the years—I truly believe that it has finally hit its stride with amazing hair painting techniques.
Why Choose Delilah Hair Studio?
We Listen and Offer Advice: A colour correction service is all about ensuring that you end up with a colour that you love, and that makes you look the best you can be. To achieve this, we take the time to listen to what you want, while adding advice along the way. A good hair styling experience is a collaboration between you and the stylist, and you'll get this every time at Delilah.
Experience You Can Rely On: Colour can go seriously wrong, especially if you're in the wrong hands. If you're getting a colour correction done, you want to be in experienced hands to ensure you're not left in the same place you started. Our stylising team have 30-years of collective experience behind them, and no matter where your hair is at, they'll get it to where you want it to be.
Wonderful Environment: We want you to look forward to your visits with us. We've created a space and assembled a team that come together to create a warm, welcoming environment where you can feel 100% comfortable in voicing your desires.
Latest Techniques: We only use the best products and the latest techniques at Delilah hair Studio. Our entire team is obsessed with hair styling, and that's why we all work hard to research and learn the latest technologies. It's all aimed at being the best, so our clients get the best.