At Delilah Hair Studio, our fab little salon space in Brunswick East in Melbourne, we are big on all things curly hair! We do a lot of dry-cutting and curl styling on our gorgeous bouncy-haired peeps from all over Melbourne.
We know all-too-well that styling curly hair can be a challenge for you at home. That's why we're here to help! We're all about creating low fuss strategies to help you achieve incredible results and maintain your gorgeous curly hairstyle, even weeks after you've visited our salon.
Being the curly hair specialists that we are, we often get asked how we achieve such beautiful, voluminous curls on our clients. Well, our secret to success is no longer a secret! Here is our step-by-step guide to achieving fabulous results for curly hair…
1. Clean and Condition
Choose your favourite sulphate and paraban free shampoo and conditioner and jump in the shower! Do 2 shampoos. The first shampoo should be quick and won't lather much. It is really only to get rid of surface dirt. It is the second shampoo that will deep clean your curls. So it should be done as thoroughly as possible. After giving your hair and scalp 2 really good scratches and rinses, apply your beautifully moisturising conditioner. Massage your conditioner into your scalp for a couple of minutes. Be sure to hydrate your hair and scalp from the roots, all way through to the tips.
2. Towel Dry
Wrap your hair up in a towel and gently squeeze all of the excess water out. At this stage, be careful not to rub vigorously. If you do, you'll likely disturb the cuticle and make your hair frizzy.
Book with one of our curl specialists for a dry-cut today!
3. Apply Your Product
Once your hair is no longer dripping wet, apply your favourite Delilah styling product. Our products are all handmade by us, and are exceptionally moisturising and hydrating. Plus, they're lovely and rich and creamy. They're all available in-store, so be sure to pick some up next time you're in!
Apply a small amount of product (a slightly raised 20 cent coin) to the palm of your hand. Rub the product gently into your hands and then scrunch it into your hair from the tips to the roots. You'll need to work the product into hair over the space of a couple of minutes. If you need more product, add it to the palm of your hand in small amounts. Too much product = stiff crunchy curls! No one wants that! And don't forget your hairline and around the nape of your neck—you want to eliminate frizz from these areas too.
If you can't come and grab our fantastic Delilah styling products, we suggest that you use a rich, thick cream that almost has a sorbelene feel to it. This will give you beautifully hydrated and controlled curls without the crunch!
4. Diffuse-Drying
Using your favourite diffuser, flip your head upside-down. Gently hold the end of the diffuser accessory in to the hair. Dry small sections of hair at a time, in short bursts of around 10 to 20 seconds. Keep in mind that the diffuser can get quite hot—you need to be mindful that you don't burn yourself or over heat your hair.
After about 5 minutes your hair will be 90% dry. At this point, I like to flip the head over to one side and apply the diffuser. This way, you can make sure that the area around the ears is dry. Repeat this step on the other side of your head too. Then give your hairline a little going over.
Contrary to popular belief, you want your hair to be 100% dry to lock out the frizz! The drying process should take around 10 minutes (if your hair is long and thick it may take a little longer).
5. Cold Shot
Once your hair is completely dry, put your hairdryer setting on to 'cold'. Then give your whole head a quick wizz around. This will set your curls and lock in the volume!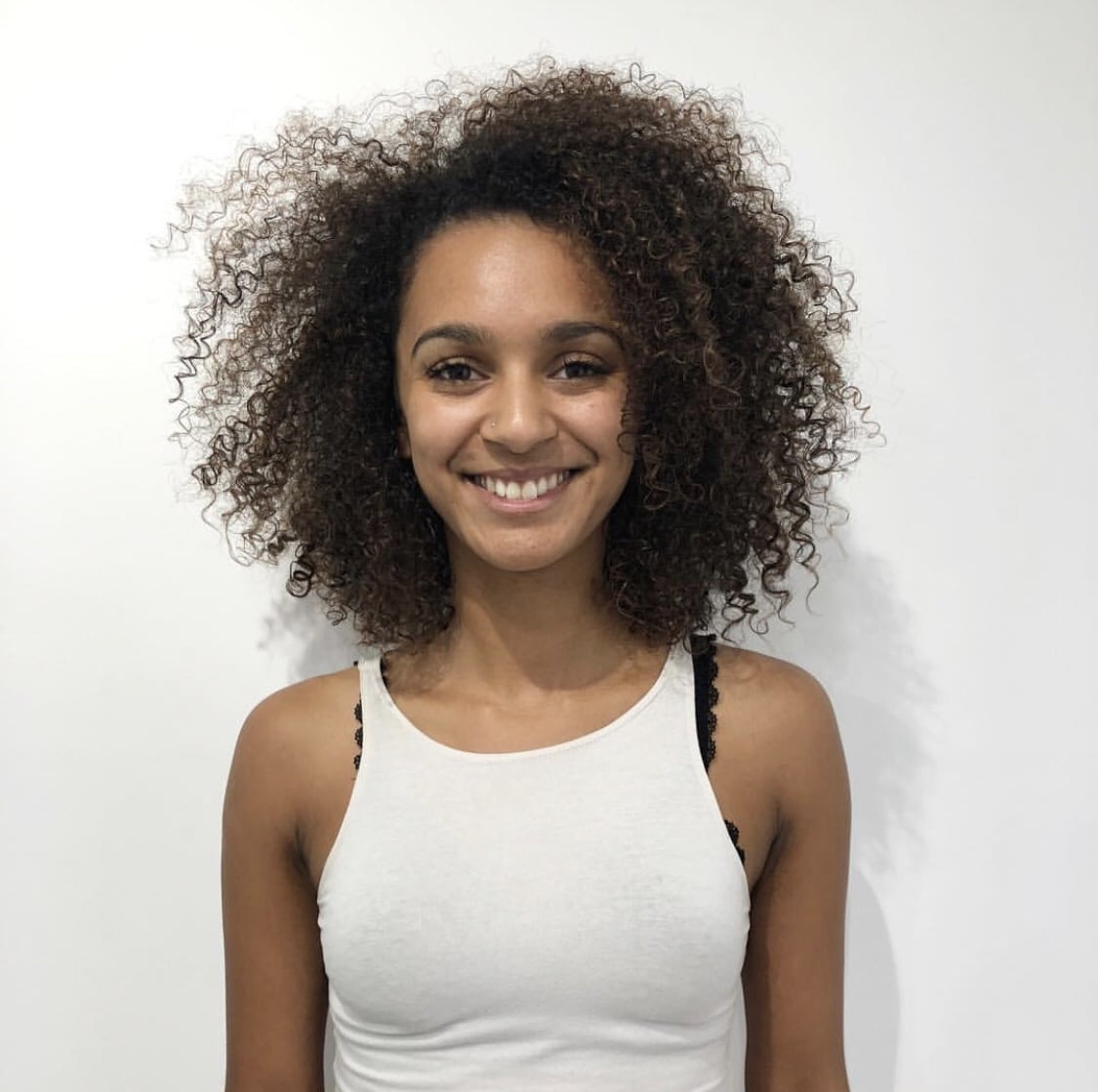 6. A Little Frizz?
If, on the off chance, there is a little more frizz than you might like, apply a small amount of spray conditioner lightly over your hair and gently scrunch it in. This should eliminate any excess frizz that may arise.
Thanks for reading! If you would like to book with one of our curl specialists for a dry-cut or style, click here!