At Delilah, our gorgeous hairdressing salon on Lygon St in Brunswick East, we have specialized in curly hair for years. We've truly mastered the art of dry-haircutting—we even run dry-haircutting education nationally around Australia.
So, the logical next step was to craft our very own range of in-house curly hair styling creams! Our 3 incredible cream stylers are made by Delilah's owner Adrian Panayiotis. Since their inception in 2018, Delilah Creams have taken the curly hair world by storm. They're the ultimate go-to curl styling creams of thousands of curly-haired peeps all across Australia!
Our 3 Delilah Creams were carefully crafted to suit all curl types. Our aim was to create products that not only styled, but deeply treated and replenished curly hair at the same time. We want to help you eliminate that frizz, without weighing your hair down. It's definitely not an easy balance to achieve, but we sure did get it right!
Only the best ingredients are used in Delilah Creams. From the purest essential oils that saturate your locks, and beautifully rich sorbelene bases, right through to different types of organic clays for detoxing and texturizing of the hair shaft. All 3 products are silicone and sulphate free.
Peppermint Essential Oil, Sorbelene, Cacao Butter, Glycerin, Jojoba and Olive Oils.
Delilah Peppermint Cream was the first cream in our series of 3. It was the master product and the original. This gorgeous, rich sorbelene based cream has the hydrating properties of Cacao Butter and Glycerin with a decent splash of the nutrient dense Jojoba Oil and Olive Oil. Peppermint cream is terrific for curl definition, frizz elimination and weight distribution. A small helping of Peppermint Cream will leave you with soft, defined and satin-finished curls. Peppermint Cream will treat and nourish your curly hair whilst it styles, making it one of a kind in the curly arena!
Sorbelene, Pink Grapefruit and Lime Essential Oils, Pink French Clay and Shea Butter, Organic Sea Salt.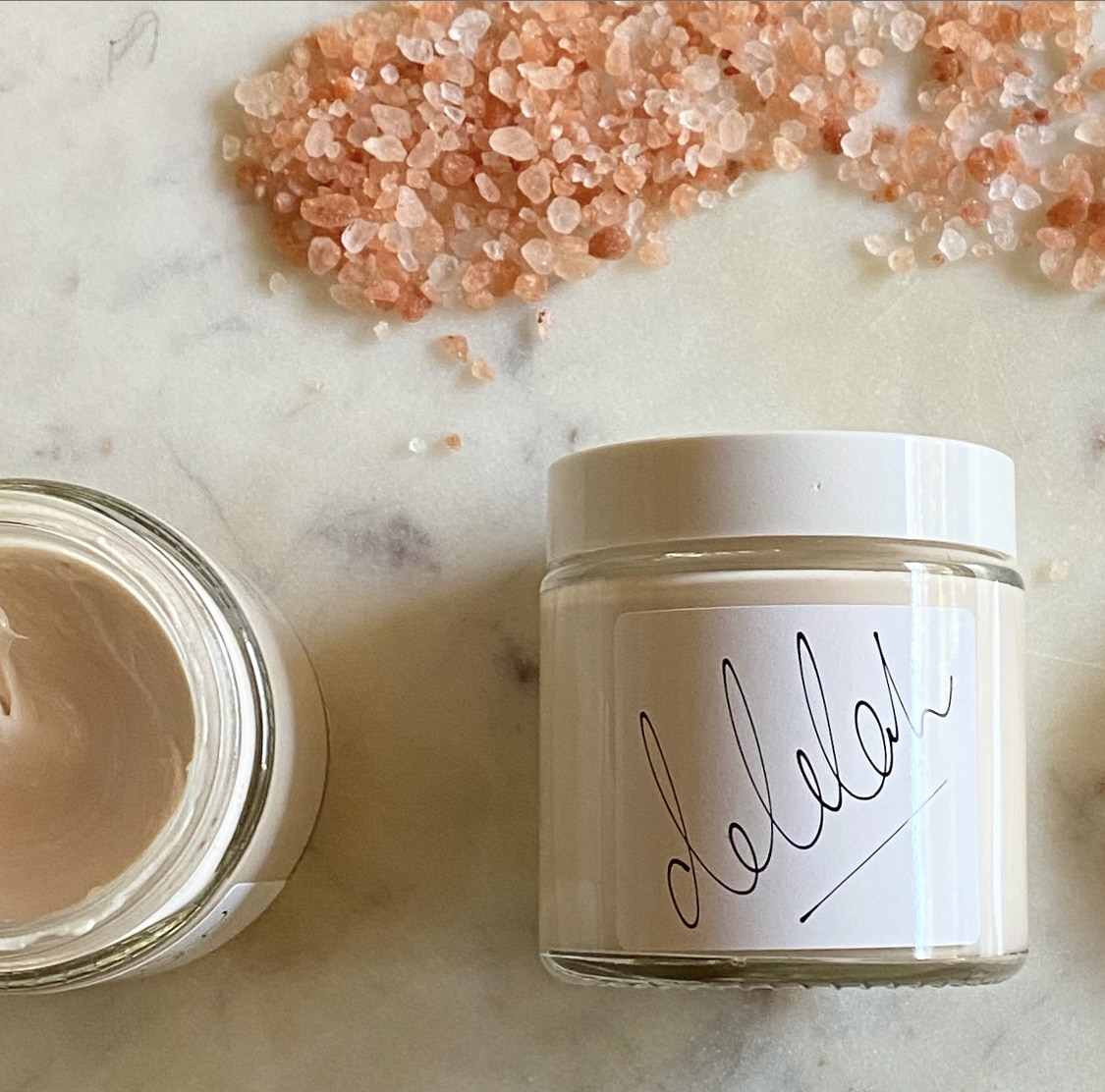 Delilah Sea Salt Cream was birthed after trying to merge two of the most popular curl styling products together, a cream and a sea salt spray! After months of tinkering and refining this delicious recipe, what we ended up with is a detoxing, beachy treatment curl styler! Tongue twister right?! But it works. Sea Salt Cream has quickly become the go to product for those wanting healthy curls with a beachy texture and total frizz elimination! Also in a rich sorbelene base, Sea Salt Cream contains sustainably harvested beeswax for nourishment and protection, grapeseed oil for shine and softness, organic sea salt for texture and disinfection and Pink French Clay for curl detoxing and mattifying. And did I mention the delicious Shea Butter? Well, it's in there! And, my goodness, it's great for your curly hair! It's like a healthy day at the beach in a jar!
Sorbelene, Beeswax, Grapeseed Oil, Essential Oils of Cedarwood and Cinnamon and Bentonite Clay.
Delilah Clay was created because we didn't want to leave the short and textural curly-haired peeps without a world-class styling product! With equal parts sustainably harvested beeswax and sorbelene, this heavy-duty styling cream gives maximum texture to your curls and shorter hairstyles. It also provides the nourishment, detoxing and de-frizzing properties that curly or thicker hair so desperately need! Bentonite Clay is a brilliant detoxing agent for the hair and scalp. It also provides matte texture to the hair and ensures as non-flaky scalp. You will love the healthy and carefree texture that Delilah Clay brings to your hair! For maximum curl definition, this product is your best friend.
Charity
$1 from every Delilah Cream sold goes to FVREE who run a program called Hair3Rs, which teaches hairstylists the 3R's. How to RECOGNIZE, RESPOND and REFER for their clients who may be experiencing family violence. This is a brilliant and important initiative which salon owner Adrian is an ambassador for.
You can make a donation to FVREE/Hair3Rs here.
If you would like to be in the hands of one of our best curly hair specialists in Melbourne, contact us today or book online!