---
The affect that a hair colour can have on the overall look of a person is incredible. The team at Delilah Hair Studio in Brunswick East have been seeing people literally transform before our eyes after they receiving the expert hair colour services of Melbourne's best hairdresser.
From a world class balayage/hair painting, precision foiling, colour correction or a saturated effect, at our light and spacious studio in Brunswick East, we specialise in all different types of hair colouring and we have the right hairdresser for your needs! We believe that the colouring process should always begin with a thorough consultation. After all, the health of your hair is the most important thing to us when deciding on colour.
Our team regularly attends the latest training courses and workshops (such as those led by leading stylist Lia Mei). And, for complete peace of mind, we use the amazing Blondpro in our hair colours (whenever necessary) for added protection and restorative benefits. Plus, you can even opt for a Blondpro Stand Alone Treatment. Plus, we use MUK hair colour which are: 
PPD free

Low ammonia

80% naturally derived

Cruelty free

Reparative and restorative

Long lasting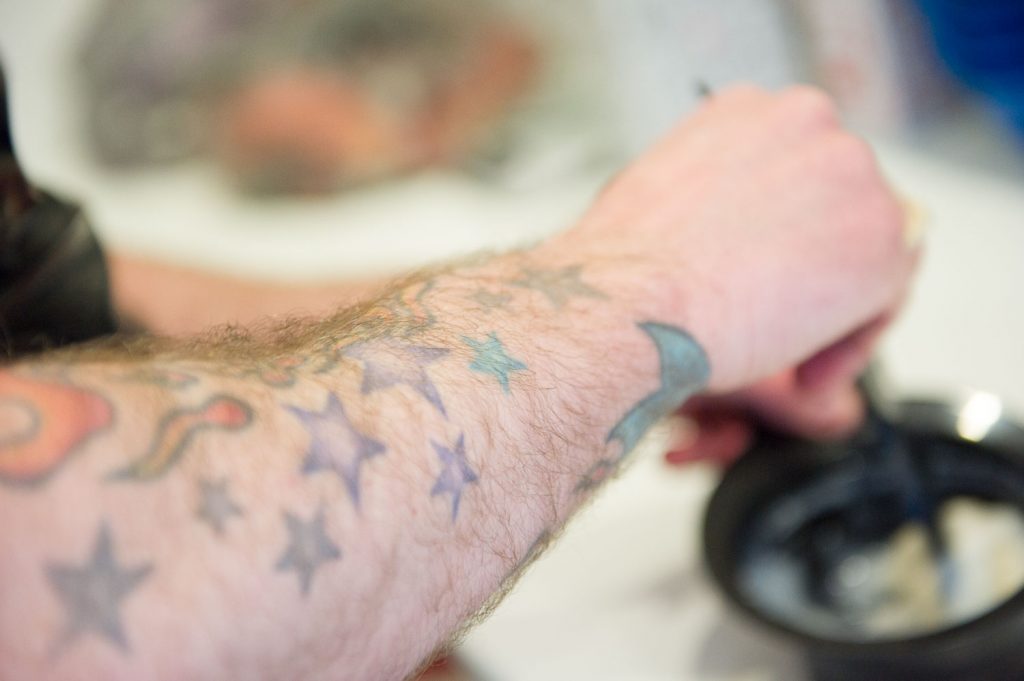 Our Hair Colouring Services
If you're ready to take the plunge and experiment with some hair colours, there's no one better to trust than the team at Delilah, lead expertly by Adrian Panayiotis. Adrian has had educational roles with the Californian Sexy Hair brand and also with Babyliss Pro and PPS Hairwear. His expertise in hair colours has been sought out on the international stage; rest assured there's no better hair colourist in Melbourne. We are expertly trained in all types of hair colouring, including the techniques below.
Our Hair Colouring Menu
At Delilah, we only use premium hair colouring tools to give you the best results possible. We use a combination of MUK Colour, Wella and O&M.
We specialize in regrowth maintenance, foil highlighting, root-stretching, multi-dimensional blondes, balayage and freehand hair painting, vivid colour, multi-tonal brunettes and on-scalp bleaching.
The world famous Australian brand Blondpro Bond Builder (think Olaplex) is built into our pricing (take home product extra). We also work 1-on-1 with our colour clients to ensure you get all of our attention for the whole time you are visiting our studio.
To make things easy for you, we have 5 hair colouring packages for you to choose from. All of our hair colour packages include a haircut and style, if you do not want a haircut with your service, $25 will be deducted from the package price.
Please note that a blow dry or diffuse-dry is compulsory with all our colouring services. This enables us to view our finished work and make sure it is the best it can possibly be.
REGROWTH PACKAGE
FROM 260
This package is for tinted regrowth maintenance and root touch-ups. The price is for a regrowth Up to  8 weeks hair growth (approx 1 inch in length). For regrowth that is longer, please book the FULL COLOUR package.  This package is not for on-scalp bleaching. The regrowth package also includes Blondpro A and B, a haircut and style. This price of the package does not include highlights or balayage
FULL COLOUR PACKAGE
FROM 310
This colour package is for root-to-ends colour, using semi-permanent or permanent hair colour. Hair that is very long/thick will incur additional costs extra to those stated. It does not include on-scalp bleaching. This package also includes Blondpro A and B, a haircut and style. This price of the package does not include highlights or balayage.
HIGHLIGHTS OR BALAYAGE MAINTENANCE PACKAGE
FROM 400
This package is for the maintenance of your existing highlights and balayage, up-to a 1/2 head of foil highlights or balayage up to 10 weeks of regrowth.  This package includes Blondpro A and B, a haircut and style. Regrowth longer than 10 weeks, root-stretching, multi-zonal toning and foil highlight/balayage combos is an extra cost. If you have an existing scalp bleach with regrowth no more than 6 weeks old and would like regrowth maintenance, please book this package.
COLOUR MAKE-OVER PACKAGE
FROM 480
This package is for a full-head of foil highlights or balayage, new blondes and anybody wanting a complete change of colour. It includes Blondpro A and B, a haircut and style. Root-stretching and multi-zonal toning is an extra cost. Please note that the price is 'from' and will be priced according to the amount of work done, colour used and time taken to achieve your fabulous new hair colour!
(Please note, we schedule 3.5 hours for this service. The minimum cost for this booking is $400)
I'M NOT SURE WHAT I WANT PACKAGE
POA
If you are unsure of what to book, please book this package. By booking this package, you are ensuring that we have enough time for a thorough consultation, haircut and hair colour and will take the pressure out of your decision making before your arrival.
Why Choose Delilah Hair Studio?
We Listen and Offer Advice: We understand that some people will have a clear idea of the hair colours they want, while others are looking for some expert advice. We can assist you on both fronts. We know instinctively the types of hair colours that will work for you and we can also listen to what you want to create and use the best techniques to get you there.
Experience You Can Rely On: You don't want to trust just anyone with your hair colour, it's so important that you get someone that's experienced or you could end up with the dreaded orange or a completely different colour to what you wanted. With a collective 30-years experience to count on, you can trust that the team at Delilah will give you the colour you expect, without the nasty surprises.
Wonderful Environment: A good hair colouring takes time, so you want to be in a welcoming and enjoyable environment. Delilah will give you just that, with our friendly team and beloved customers, your hair colour session will be something to look forward to.
Latest Techniques: We rely on our experience but we are motivated by a desire to keep learning. You'll benefit from the latest in hair colouring techniques carried out by a team that never stops researching, trialling products and learning